News
2010
Super 1 Round 7, 3Sisters- October 2010
Double podium for Joe Byrne
The Final round of the 2010 Super 1 British Championship saw the team travel to Wigan and the 3 sisters track. This was a first visit to this circuit for a few years but the team has good memories of this circuit wining on our last visit in 2008. Drivers Joe Byrne and Fergus Greensmith were present whilst other Minimax driver Seb Morris had decided to concentrate on his Ginetta racing at Brands Hatch despite his podium at the last round. Friday practise was promising with the team gettng through a detailed test program and coming to a very strong set up aimed at the long finals. Timed qualifying was a little messy with Joe never really getting a clear lap, however he still qualified 4th despite being 4tenths of his theoretical best on his 'hot' lap due to traffic. Joe sorted this out in the heats however with 2 strong drives to finish 1st in both races. Fergus had a few incidents in the races however his pace was good and he easily qualified for the main final. Team newcomer James Biggs improved steadily throughout the weekend after starting way of the pace (this being his first Super 1 race) he felt the benefit of being with a team like Velocity to end up doing competitive lap times just 4tenths of the fastest. James was frustrated to be in the B but raced hard and will have a hard winter with the team getting up to speed for the 2011 championship season.
Joe Lined up alongside Harry Webb for the main final, Joe used his head knowing that his set up was good for the long race and litterally pushed Harry into a comanding lead. The pair were well clear with 3 laps to go when Joe made his move, he got a fntastic tow down the main straight and slotted into the lead with a nice outbraking manouvre into the first corner. Unfortunately on the next lap Harry regained the lead and Joe did not have enough time to get back in front. Joe ended the race in 2nd as he did in the first final, the team were happy once again showing the strength of its team members by pushing its drivers to be front runners. Joe finished 8th in the championship whilst despite not even carrying out the final round Seb finished with a number, 14th.
The team now looks forward to the 2011 season where Mini drivers Joe and Fergus will be making the step up into Juniors, whilst they have much to learn they will definitely be a forced to be reckoned with by the end of the year. Watch this space to see how Velocity progresses!
Midlands Championship, Rissington- September 2010
Velocity 1-2!!
Velocity Drivers Joe Byrne and Gus Greensmith were out in action at the Midlands championship held at the fast and flowing little Rissington circuit. The velocity drivers did the team proud with a fantastic 1-2 with Joe leading Gus home by a single second. The two were ecstatic with their result and hope to carry it on in next weekends '0' plate.
Super1 Round 6, Shennington- August 2010
Velocity on Pole!
Mini max driver Joe Byrne secured a well earned pole postion in timed qualifying at the Shennington Super 1 round. HIs time topped the time sheet after a well thought through qualifying session maximising the 'tow' required to get a good time around the circuit. The team were very pleased after the session as other drivers Seb Morris and Gus Greensmith were 6th and 13th in session respectively showing that a good set up had been achieved.
Racing saw some extremely changeably conditions, unfortunately Gus damaged his wet tyres on a rapidly drying track meaning that he was in for a difficult wet first final. Joe, who started the race 6th was collected in someone elses accident unfortunately putting him half a lap behind he put in a determined drive to claw his way back up to the back but unfortunately he had run out of laps. The star of the race however was Seb he put in a fnatastically controlled drive in the changeable conditions to finsih the race in second and gain is first National championship podium. This was even more impressive considering his starting position was 22nd! The second final saw an return to dry conditioons, the team knew that they had pace in these conditons after achieving first and third in the warm up so were confident of a good result. Joe, starting from the back of the ack made an impressively controlled drive picking of the field with some awesome overtaking. He made his way to finish 6th from his starting position of 26th on the grid. If only the race were longer! Seb raced well battling hard for his eventul finshing position of 8th.
The team now prepares for the one of Britsh championship race the 'O' plate to be held at Rowrah cumbrai in 2 weeks time.
Velocity go into collaboration with Psycle Workz- August 2010
Velocity Motorsport have gone into collaboration with engineering firm Psycle Workz to produce a purpose built lightweight chassis jig. The jig will be put into production following initial trials. The design of the jig centres on the Tony kart frame and is meant as a check tool and can also be used to return the chassis to factory geometry. More details and images will follow.
Super1 Round 5, Larkhall- July 2010
Nathan on the podium, Mini's battle hard
The Larkhall super 1 race saw a return to the front for Junior Rotax driver Nathan Harrison. In the first final he raced well to make it onto the bottom step of the podium. The second final saw Nathan make it into the lead on the start before unfortunately derailling his chain by hitting a kerb. This was obviously a huge dissapointment in a race he could have won.
Minimax drivers Joe Byrne, Seb Morris and Gus Greensmith all showed signs of pace throughout the weekend however the ultimate pace was never quite there due to rear tyre compound issues. Seb raced extremely well to make it through the B final and reach the top ten by the end of the race whilst Gus and Joe raced hard and put in solid performances.
Dragon Masters , Glan-Y-Gors- July 2010
Velocity Motorsport would like to congratulate Seb Morris on becoming the 2010 Dragon Masters Minimax champion!
Super1 Round 4, Buckmore Park- June2010
Velocity Victorious once again!
The Buckmore Park Circuit in Kent saw Velocity in action at the fourth round of the Super 1 championship. The team was on fine form in the scorching hot conditions. Temperatures in the awning reached over 100 degrees however the team stayed cool to take a fine win in Minimax.
Senior Rotax
Billy Albone came to the round in 2nd in the championship and after significant testing was confident of succes on a track where he and the team have had much success in the past together. The paddock was awash with disgust over the inconsistancy of the recently changed Vega racing slick. The poor quality of the tyres, caused by a mould releasing agent was causing serious problems up and down the pit lane even resulting in last years champion Micheal Simpson packing up and going home. Billy drove excellently throughout the meeting dealing with what he had in the best possible manner, I super start saw him up to fith in the final at one point however he could not get any grip around left handers due to a poor rear tyre and he dropped back to a creatiable 10th by the end of the race, consistancy however is doing his championship no harm at all!
Junior Rotax
Nathan Harrison, last year winner at this circuit in minimax, came to the meeting with great optimisim. He raced hard in the heats using a good compromise set up for the hot conditions and managed to qualify for the finals in 7th place. Unfortunately Nathan was taken out at the first corner in the final and had to fight back from the back of the grid to finish 15th in the first final and then 6th in the second final. His pace was extremely encouraging matching that of the winner so it can only be a matter of time before he and the team return to winning ways together.
Mini Max
The Mini max team of Joe Byrne, Fergus Greensmith and Seb Morris went into the race in a great position following succesful tesing at the track. A great set up was found for each individual driver. Joe qualified second overall and fastest in group whilst Seb and Fergus worked together in qualiyfing Seb recording a fantastic fourth and gus unlucky just 1 tenth of a second behind and in 18th place. The heats went well for Joe with a win and a second and fastest lap whilst Seb and Gus battled hard to make it into the A final, Gus showed huge improvement with a fantastic 4th place in his second heat once again showing how the team gradually 'builds' the drivers up. Joe held his cool in the first final taking his first Super 1 British Championship victory from pole position, this despite racing with a bent trackrod for the whole race following a start line incident. Gus a Seb had mixed fortunes after being involved in racing incidents Seb once again unlucky to crash out of the race. Gus dug in in the second final to finish a season best 13th whilst things did not go to plan for Joe after a sticking brake hindered his progress slowing him down to finish only 5th, however the points catapulted him up the championship table. The meeting was a fantastic result for the team following recent disappointments
SuperPrix, Shennington- June2010
Joe Byrne was in action at the recent Minimax SuperPrix at Shennington. The meeting sees endless classes of karts including Historic racers take to the Shennington Circuit. Joe raced hard all weekend and took a fantastic win adding to his recent podium at Super 1. The team hopes he continues this form into the next Super 1 round! Meanwhile fellow Mini max team member Gus Greensmith was at Buckmore park impressing everyone with how quick he picked up the track on his first visit, he did well to come home a creditable 15th out of the 50 strong field.
RGMC Wackersdorf, Germany - May 2010
Nathan Harrison was flying the flag for Velocity in Europe once again at the second round of the European Rotax Championship. Nathan, who is in his first year of European racing, was fast throughout practice finding a good set up in very changeable conditions. Once again Nathan was run by Velocity's technical / Carb Guru Alistair Brown who had to work hard using all his experience in the conditions which went from Serious grip to Pouring rain. Nathan showed his speed gaining fastest lap in the final on his way to 5th position.
Buckmore park test - Byrne dominates! -May2010
Velocity Minimax drivers Joe Byrne and Seb Morris along with Junior Rotax driver Nathan Harrison recently visited Buckmore park in preparation for the upcoming Super 1 round. The team got through some good testing and sent a warning through the Paddock by Taking pole position in both Junior Max and Mini Max. The team used the race as a test working on setup throughout the day. Seb and Joe showed serious pace, it was impressive for Seb to qualify 4th and finish 6th with this being the first time he had driven the demanding circuit! Joe was in dominate form lapping close to last years Super 1 pace whilst not being on the Finialised set up, he won the race comandingly once again demonstrating his recent up turn in form. Nathan Raced well to achieve 3rd place against a top quality field, his pace being extremely fast. The team go away from the event with a positive attitude knowing that there is still more to come.
Super 1 Round 3 Whilton - April 2010
Minimax: Joe Byrne raced exceptionally maturly through the heats and then cam through strongly in the final to take his first Super 1 podium position with 3rd place. Going into the second final the team was confident knowing that a good set up had been found, unfortunately however Joe was robbed of his chance to shine after his fuel pipe became mysteriously dislodged whilst sat in Parc Ferme meaning he managed only ahalf a lap of the warm for the second final prior to running out of fuel. It was therefore left to Seb Morris to come through strong, after a good showing in the first final finsihing 6th with one of the fastest laps Seb quickly got into the rhythm in the second final getting into an early lead. Unfortunately it was not meant to be as a fellow competiotr decided to carry out an over optimistic overtaking manouvre and crash into Seb destroying his radiator in the process. This put Seb out on the spot, he was lucky to walk away uninjured.
Junior Max: Nathan Harrison once again showed steady progress looking to put behind him his Rowrah disappointment. Nathan Worked his way through the heats nicely and set him self up for a bag of championship points. He dealt maturly with another drivers over zealous tactics to come away 6th in the championship.
Senior Max: Billy Albone had to race hard following a disastourous Qualifying, attributed to a Bad set of wet weather tyres. Billy showed his class picking his way through the chaos of the Senior race to end up in 7th place. His consistent Finishing means that he is currently lying in 2nd place in the championship and still has yet to find the final set up on his Kubica chassis.
The team goes away from the event slightly disappointed with the outcome but has once again showed its professionalism in working towards a fast set up.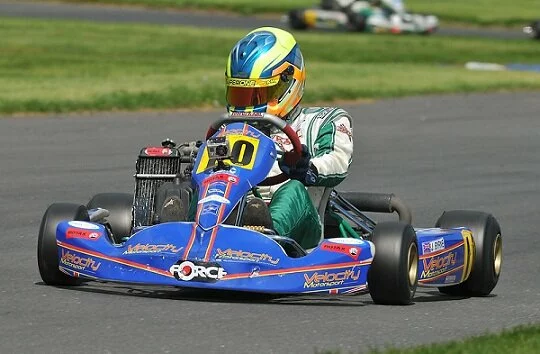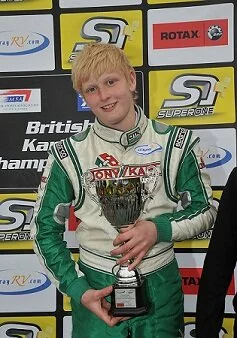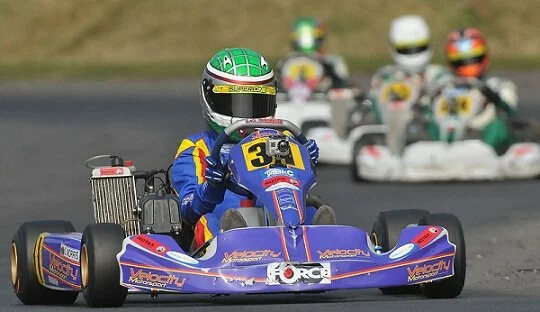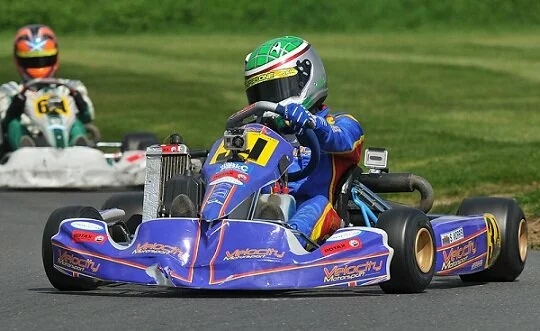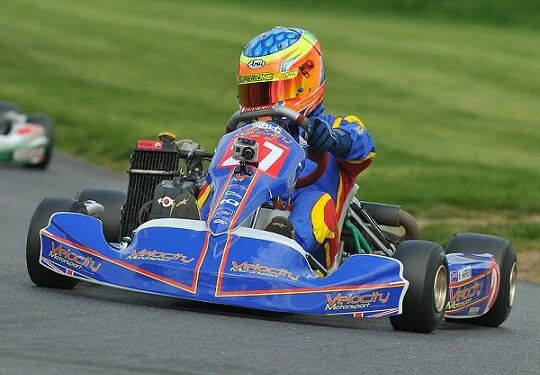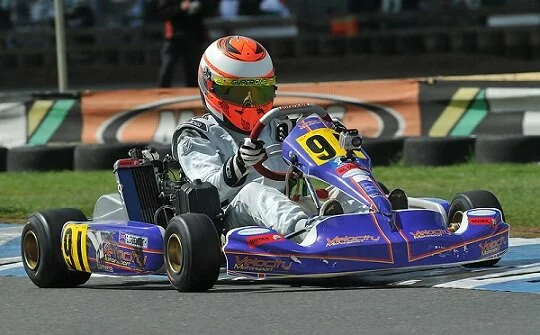 RGMC Salbris, France - March 2010
Nathan Harrison started his European Career at the Salbris track in central France. Salbris is traditionally a good track for Velocity having previously taken pole position ant the European KF2 championships in 2007 and this year once again showed the teams strength. Natahn adapted quickly to the European style event and long circuit under the tutorage of Alistair Brown. By the end of the meeting Nathan was fastest unlucky to make it onto the podium.
Super 1 Round 2 Rowrah - March 2010
Rowrah is always one of the teams and drivers favourite circuits and this year did not fail to please.
The minimax team were on fine form showing good pace in practise and qualifying. Joe Byrne was loking like a real contender for the podium after getting numerous fastest laps in the heats. This was not to be however after a bad incident at the start saw him nursing a bruised arm and a bent kart home to take a top temn finish. Seb Morris once again showed his speed producing a fine drive from the back of the field to finish 8th Whilst Gus Greensmith did well to make the A still building up strength in his arm following his PFI accident.
In Junior Rotax Nathan Harrison was on fire setting a blistering pace and breaking the circuit lap record. Comfortably sitting in 3rd place in the final Nathan suffered a gutting mechanical failure after his bumper broke meaning he was forced to retire from the race. He and the team were left pondering what could have been but know they showed true pace.
In Senior Rotax Billy Albone shone in practice using his RK kart however the switch to new tyres for the race proved problematic with numerous competitors struggling with what was believed to be a new compound of tyre. This left Billy struggling however he put in a true racers effort and managed further competitive finishes to leave him well up in the championship.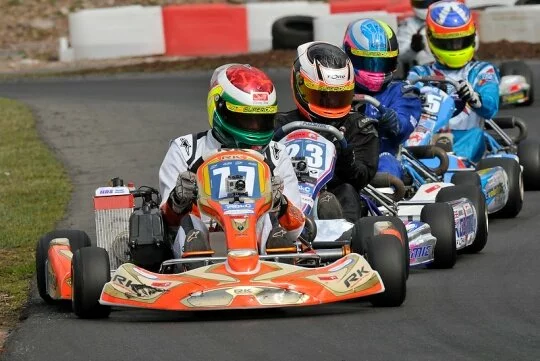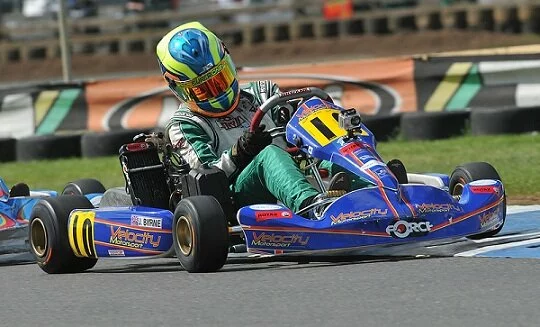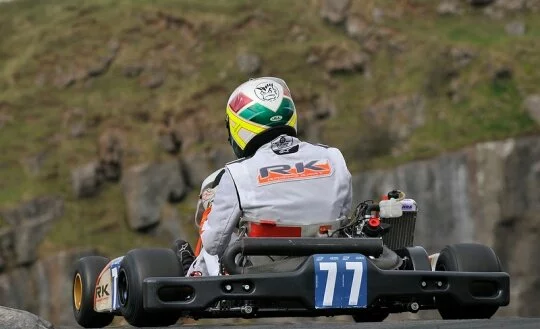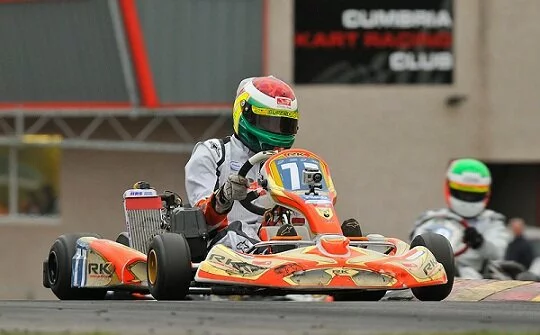 Super 1 Round 1 PFI - March 2010
A tough season opener for the team!
Minimax: Qualification went badly for the teams three drivers following a severe rainstorm and not making the most of the conditions. The heats went better however with Joe Byrne recording a fine 5th place finish after starting from the back of the pack. Seb Moris showed consistent speed through his two heats to qualify for the pre final in 10th position. An unfortunate incident saw Gus Greensmith involved in a nasty accident where is kart was barrel rolled by a backmarker, Gus unfortunately broke his arm and knuckle in the incident and will miss the next round of Super 1 whilst healing. The team members would all like to send there best wishes to Gus and wish him a speedy recovery. In the Finals Joe Byrne suffered 2 disastorous races in the 1st a fantastic start saw him up to 10th place from 19th however his chain snaped following a collision from behind A wall of karts curtailed the second race for Joe resulting him finishing the race with a severely bent track rod. Seb Morris showed pace battling up to 4th at one point in the first final and setting 5th fastest time in the second final, however some over exuberent moves by both him and his competitors saw him finish in 11th and 20th respectively.
Junior Rotax: a late change back to the Tony kart chassis saw Nathan Harrison initially on the back foot however Nathan battled hard slowly getting more and more reacquanted with the Tony kart chassis. Nathan ended the finals with a creditable 8th and 11th position.
Senior Rotax: Billy Albone worked hard with the team to try and get the best out of his works supported RK chassis. Throughout the weekend he was consistently improving his pace although a few mechanical grmlims let him down. Billy battled through from the repercharge to eventually finish 5th in the A final at the flag of the second final with the tyres about shot!
Tough winter- March 2010
The bad weather has seen the teams winter testing severely limited however early indications show that the team is competitive with Nathan Harrison winning at Shenington and taking several fastest laps over the winterseason.New sigings Seb and Fergus have shown encouraging progress whilst Joe and Billy have been unlucky in racing although there Pace has been good.
New Suits
Velocity are pleased to announce the move to FreeM race suits with support from FreeM UK.
New drive line up - Feb 2010
Velocity are pleased to announce a full driver line up for 2010 as follows:
Senior Rotax : Billy Albone, Long term team member Billy Albone will be looking to emulate his previous minimax and Junior Rotax form now that he moves into the Senior Catergory. Billy will start the season on the 2010 RK kart.
Junior Rotax: Nathan Harrison, 2009 British Minimax champion Nathan stays with the team as he moves up to Juniors he will also compete in selected Euromax races with th team.
Minimax: 2009 Number 10 Joe Byrne will be hoping to get rid of the bad luck which blighted his 2009 campaign with the team and be looking for some good results.
-New for 2010: Seb Morris and Fergus (Gus!) Greensmith, Gus and Seb join the team with limited experiance at Super 1 so will be looking to improve consistently throughout the year. Seb will race also in the Ginetta junior car championship along with Formula Renault testing. The team looks forward to an exciting 2010 hoping to improve its new signings and help all drivers achieve ther best results.
Driver line up to be announced soon - February 2010
Velocity team drivers for the 2010 season will be announced soon