About...
About Velocity Motorsport
Velocity Motorsport is a highly successful kart team run by racers for racers. We are passionate and professional about our karting and pride ourselves on our giant killing abilities. The purpose of this website is to promote our Kart team, associated drivers and promote ourselves to potential new team members.
The team members have a combined total of over 35 years racing experience at all levels from European, national and club level, so whatever your needs, we can assist and advise you in all aspects of racing.
Our aim is to enhance and promote talented drivers throughout Karting and provide them with a sound racing platform. Our team policy is to improve young drivers from whatever level of performance they are at. The team aims to assist and improve its drivers in terms of driving standards, race-craft, engine set-up and chassis set-up.
Velocity Motorsport is run as a team and is structured to ensure that all its members assist each other.
Our awning policy when racing is always to find an appropriate solution to better the driver's performance in a highly professional manner. We have a fully kitted race van which we work from at race meetings. The team currently races in the Super 1 British Championship.
Our preferred chassis is currently Tony Kart, the team does not, however, restrict its drivers on chassis choice and it is to their discretion with the assistance of Velocity personnel. The team will endeavour through its contacts and experience to ensure, where possible, our drivers have the most competitive engine package.
Please contact us via the Contacts page for further information and to discuss race package availability and potential sponsorship enquiries.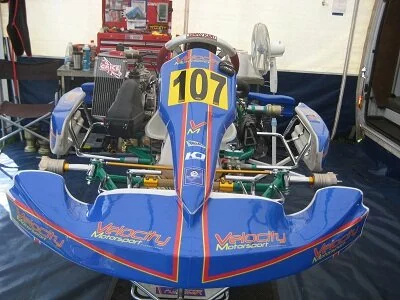 Team History
Velocity Motorsport was initially set up during 2005. The team was formed when Andrew Dawson (aka Carbon), Chris Brown and Alistair Brown came together when racing with another team. It soon became apparent that the primary members worked extremely well together.
The team was initially set up to help run Chris whilst he was a driver racing in Junior Rotax, it had become apparent to Alistair that Chris was not getting the service he required when racing for other teams so the three members went into collaboration to form what we now see as Velocity Motorsport. The team gained stature in the paddock running Chris in Junior Rotax to 3rd in the British championship. The roles during this period of the team's history were simple: Chris drove, Carbon Mechaniced, and Alistair worked with Carbon on setup. During the early Junior Rotax days it was clear that the team operated well, on many occasions beating the big teams and this therefore attracted attention of many other drivers.
Following success with Chris in Junior Rotax the team moved into Formula A for 2005 and 2006 again with Chris racing, this was a massive step up but the team acquitted itself well obtaining a respectable championship finish on both occasions. This ultimately lead to Factory drives with both Maranello and the Tony kart junior team in 2007 and 2008 racing at European and World Championship KF2 level. Chris set numerous fastest laps Qualifying on the front row at the 2007 European championship and sensationally racing from 33rd on the grid to finish 6th in the 2008 European championship to name just two notable results. Throughout this period although working under the banner of the 'Factory teams' the Velocity team stayed as close and successful as ever gaining experience and honing its talents. In the mean time the Rotax team was maintained running drivers mainly in Junior Rotax and Minimax and establishing the Velocity Motorsport team as one of Britain's leading Kart racing teams.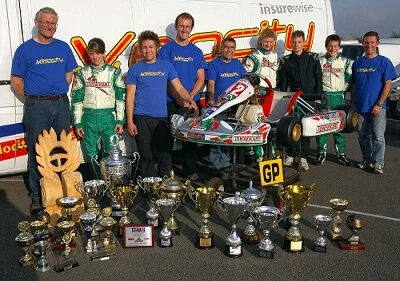 Recently the team has moved on to solely concentrating on its Rotax team following Chris's current retirement as a driver. In this period the team has had podium finishes at British Championship rounds for the past 5 seasons with no less than 7 different drivers. The team has also a great championship record vice British champions in 2007, 3rd in 2008 and 2009 British champions and a visit to the World Finals in 2009.In 2011 the team had notable results finishing 6th in the Junior Rotax world final with Nathan Harrison and 4th in the British KF2 championship with Billy Albone.
The team has a history of taking on novices and teaching them the art of racing and in the most cases taking the drivers to the top step of the podium.
Drivers to pass through the team have gone on to great success in cars, with ex drivers finishing 1st and 3rd in the Ginetta Junior championship and running well in the BARC Formula reanult championship. The team is set to diversify in 2012 taking part in the CIK FIA Under 18 World championship, Super 1 championship and selected BNL/Euromax races.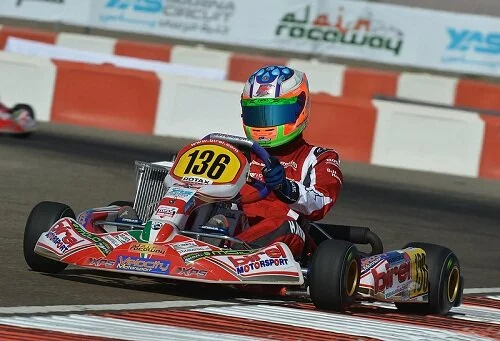 Team History: 2nd and 4th in 2007 Super 1 British championship with Billy Albone and Bill Cowley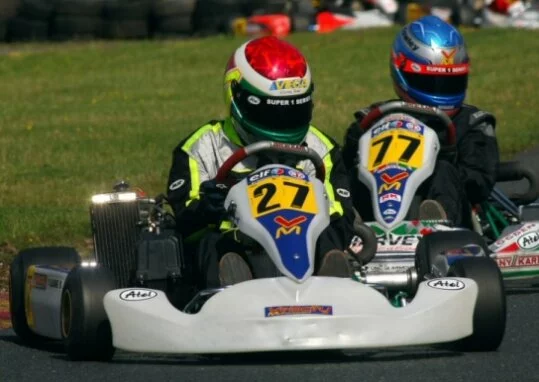 2009 British Champions in Minimax with Nathan Harrison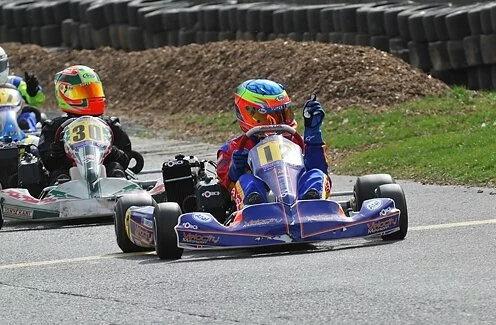 Junior Rotax - 4th in Euromax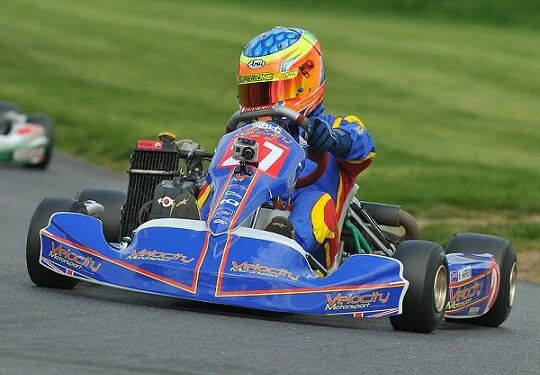 European KF2